Call-Center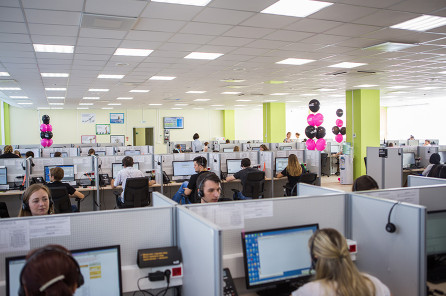 A call centre is a department or an office in which incoming and outgoing telephone and voice calls from new and existing customers are handled by a team of advisors or agents. It is a traditional set-up for companies of a larger size. Call centres can provide a service to customers, handle queries, offer product support, carry out telemarketing, or market research. A call centre usually consists of a large team of agents who carry out call handling. Call centres can be flexible in size and set up, so can be utilised by many companies in different sectors. Virtual call centres are built up of either smaller teams of agents or individual agents who are not working at the contact centre, but more typically they are working at home. The call centre has seen many changes in its set-up, from a large centre of agents, to homeworking, to use of quieter branch offices. Call centres are valuable to companies because they provide a platform to customers where the company has the opportunity to enhance its image, resolve problems and to create a stronger customer base.
There are certain factors which can be used to measure the customer experience and function of the call centre. These include metrics of average handling time, customer satisfaction, service level, cost per call and many other parameters.
Making use of the latest technologies available for your contact center will definitely help to improve the efficiency of your contact center, and contribute to its overall success. Some of the contact center technologies include:
ACD (Automatic Call Distributor) - Helps to manage incoming calls.
Predictive dialer - Helps to increase productivity.
Issue tracking system - Helps to streamline customer-related issues.
Text analytics - Helps to gather data based on customer interactions.
Computer Telephony Integration - Technology to manage calls with the help of computers.
Speech analytics - Helps to identify customer needs.
Session Initiation Protocol - Used in conjunction with IP technology, it helps customers to a reach a contact center from any part of the world.
Email response - A management software that handles emails based on a set of rules defined by a user.
One of the important aspects of running a call centre is performance monitoring. Such features are usuall availible as expensive addons in our competitor products. Because of that many customers forgo it and operate a call centre in the blind without having concrete, measurable metrics.
All these and many more problems are easily solved by using Asterisk IP PBX. Asterisk developement is mostly financed by Digium, which also produces Voice over IP hardware and is therefore very interested in spread of Asterisk. Owing to its' modular architecture, Asterisk can be reconfigured by adding and removing modules, therefore providing efficient resource use and security.